Five Reasons to Upgrade Your Level Measurement Devices
It's time. It's time to look at the next great investment decision you will make for your automation strategy. Electrolab level sensors offer long-term reliability in harsh environments. We are proud to say that there are thousands of our legacy Model 1000 level sensors still operating in the field 20 years after installation. Although the equipment is fully operational, there is some functionality that outdated devices don't offer. Your site may not be operating at full efficiency if you're holding on to old devices. This blog details five reasons to upgrade your outdated measurement instrumentation.
Improved Resolution 
Measurement accuracy is critical for some customers. When it comes to custody transfer, precise measurement makes all the difference. Over the years, resolution capabilities have improved.  Resolution options can range from 1/2 to 1/8" increments. Our DLS 2100 Level Sensor features 1/8" resolution with 3/16" accuracy, necessary to meet API 18.2 requirements for safe custody transfer. 
Technology Advancements  
Legacy measurement devices use ASCII protocol which is becoming difficult to support since RTU technologies are advancing. Sourcing a level sensor that will provide the same reliable measurement with Modbus RTU protocol is important. It's even better if your level sensor has open communication protocols and can work with devices across brands to avoid replacing more components than necessary. 
Safety Enhancements 
Our DLS 2100 Digital Level Sensor is certified Class 1, Division 1I when connected to an approved intrinsically safe barrier board or when coupled with our Explosion Proof Housing accessory. Both options provide, protection from power spikes and sparking in hazardous environments. Additional safety features include the HLS (High-Level Shut-In) option which provides overflow protection. The high-level alarm shut-in requires no power and interruptions in power do not affect its operation. Most importantly, it is part of the same device as the sensor. This eliminates the need for a second part and saves significantly on the overall cost.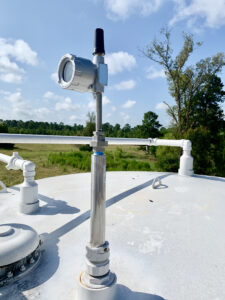 Lower Power Consumption
The DLS 2100 draws a fraction of the power required by outdated measurement devices. If you are using a wireless device for communication, the lower power draw will significantly extend the life of your battery. Also, when connected to a solar powered system, you should include the power consumption of the end devices in overall power calculations. For DLS 2100 power specifications click here. 
Customizable Options 
Our digital level sensor line offers customizable features allowing our customers to build a sensor that meets their project requirements seamlessly.  Let our team help you upgrade your outdated equipment with the right device for your application.