Explosion-Proof Housing Available in 12V and 24V Versions for all Electrolab Digital Level Sensors
Electrolab, Inc. is pleased to announce the release of a new Explosion-Proof Housing available in either 12V (Model 2110EX-12) or 24V (Model 2110EX-24) versions. Electrolab offers the Explosion-Proof Housing as an option for all of the Model 2100 Digital Level Sensors, both flexible and rigid stainless steel and fiberglass sensors, including sensors with the High-Level Shut-In.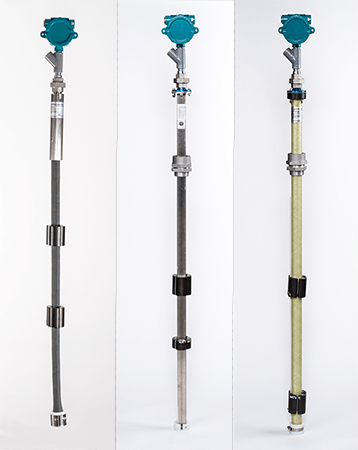 The Explosion-Proof Housing actively limits current and voltage to protect intrinsically safe equipment from power spikes and sparking in hazardous environments. The Explosion-Proof Housing is available in 12V and 24V versions for use with control equipment that generates either 12VDC or 24VDC. This housing simplifies site design by allowing any of Electrolab's Model 2100 Digital Level Sensors to meet electrical code and site safety requirements without installing additional equipment. Installations do not require any step-down transformers, barrier boards, and other devices when a sensor with the Explosion Proof Housing is wired to the explosion-proof conduit. The housing offers 2-wire RS-485 digital signals and two emulated dry contact circuits for use with Electrolab's High-Level Shut-In option (Model 2110EX-12H or Model 2110EX-24H).
Digital Level Sensors with a properly installed Explosion-Proof Housing are NRTL (Nationally Recognized Testing Laboratory) certified explosion proof and intrinsically safe, Class I, Div.1, Group D.
"We are pleased to release a certified Explosion-Proof Housing to enhance the Electrolab Level Sensor product line. With 12V and 24V options for the Explosion-Proof Housing, our customers will have the flexibility to use Electrolab Level Sensors in most oil & gas environments. Most importantly, these products showcase Electrolab's continued commitment to the safety of personnel and equipment in the oil field," said Todd Mathias, President, Electrolab, Inc. "Customers can now choose from any of our standard housings or the Explosion-Proof Housing based on the requirements of their installation."